Commercial CCTV Drain Surveys
What is a Commercial CCTV Drain Survey?
Our Commercial CCTV Surveys include Condition Surveys, Pre Purchase Surveys, Build Over Surveys, Post Building Works Surveys, Dilapidation Surveys.
We currently undertake CCTV surveys and produce reports for various chartered surveyors. We produce a detailed report with observations and still capture photos showing the condition of pipework, highlighting any remedial works required.
An inspection report with costings is submitted to aid their dilapidation surveys. If you would like to view a template of our inspection reports please get in contact with us.
Our CCTV units are capable of surveying 100-225mm diameter drainage systems using a small flexible push rod system. We also have Mainline CCTV units capable of surveying 100 – 600mm diameter drainage systems via a tractor unit  which is ideal for the majority of industrial and commercial surveys.
All levels of survey are carried out by operators trained and qualified to the Water Industry International standard. On site input and validation of the survey results is carried out using the latest CCTV reporting software.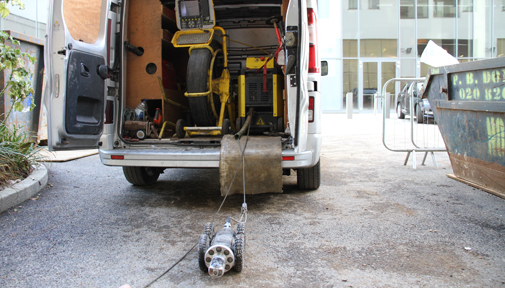 What is a CCTV Inspection?
Total Drain Care LTD offer a thorough CCTV inspection of the drainage system. Our detailed report includes the condition of the pipework, observations and photos highlighting any remedial works required. We use the latest technology and equipment to ensure a quality CCTV inspection report is produced.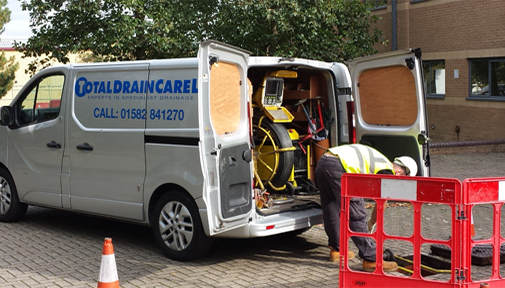 How Long Does a CCTV Drain Survey Take?
Upon completion of the site works full colour quality controlled condition reports and drawings are provided including recommendations for repairs to defects where necessary. DVD and electronic images of defects are included as standard with all levels of survey. Typical applications include:
Inspection of drains and sewers
Monitoring of specialist repair works within sewers
Monitoring of sewer cleaning
Inspection of deep shafts and confined spaces
Inspection of service ducts.
Our clients have been very pleased with the quality of our work, customer service, professionalism and the standard of our reports. As well as the quality of our reports one of our key standards is speed of service – we can deliver 24 hour response times on site when needed and once a survey is done an email of the report, again within 24 hours of completing the survey followed by a DVD copy in the post.
To find out more or book this service, call us now on 01582 841270 >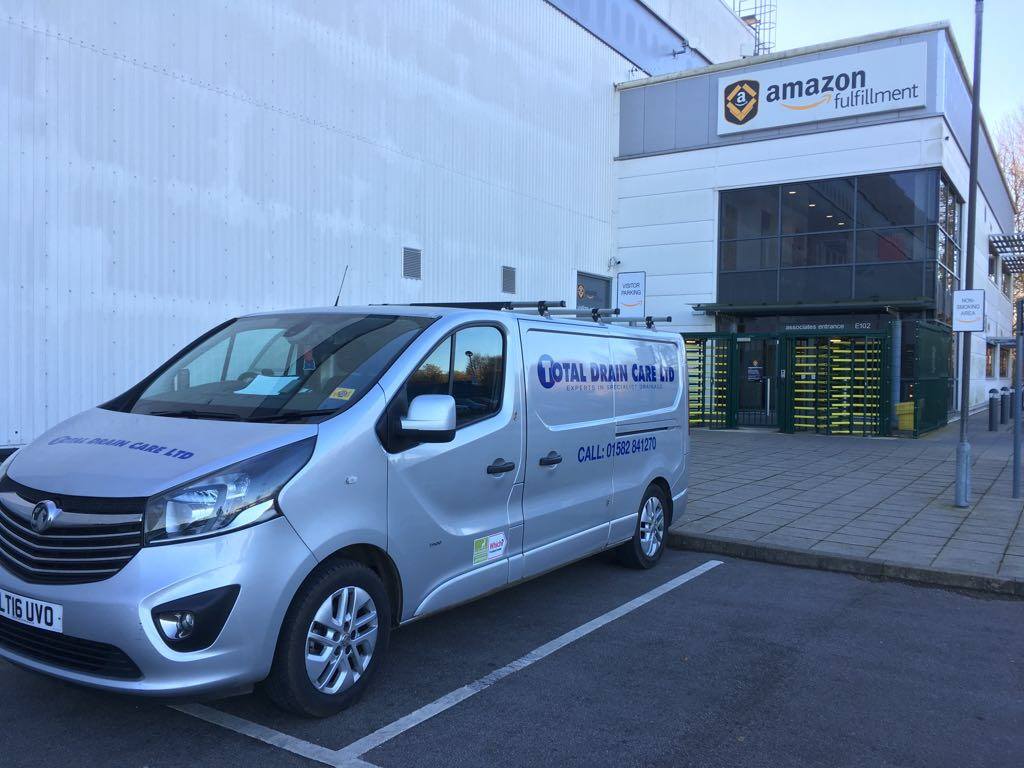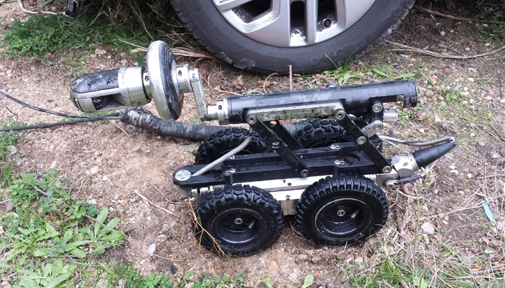 Why Choose Us?
Total Drain Care LTD maintain a good reputation for our quality of work, customer service, professionalism and the standard of our reports.
To find out more or book this service, call us now on 01582 841270 >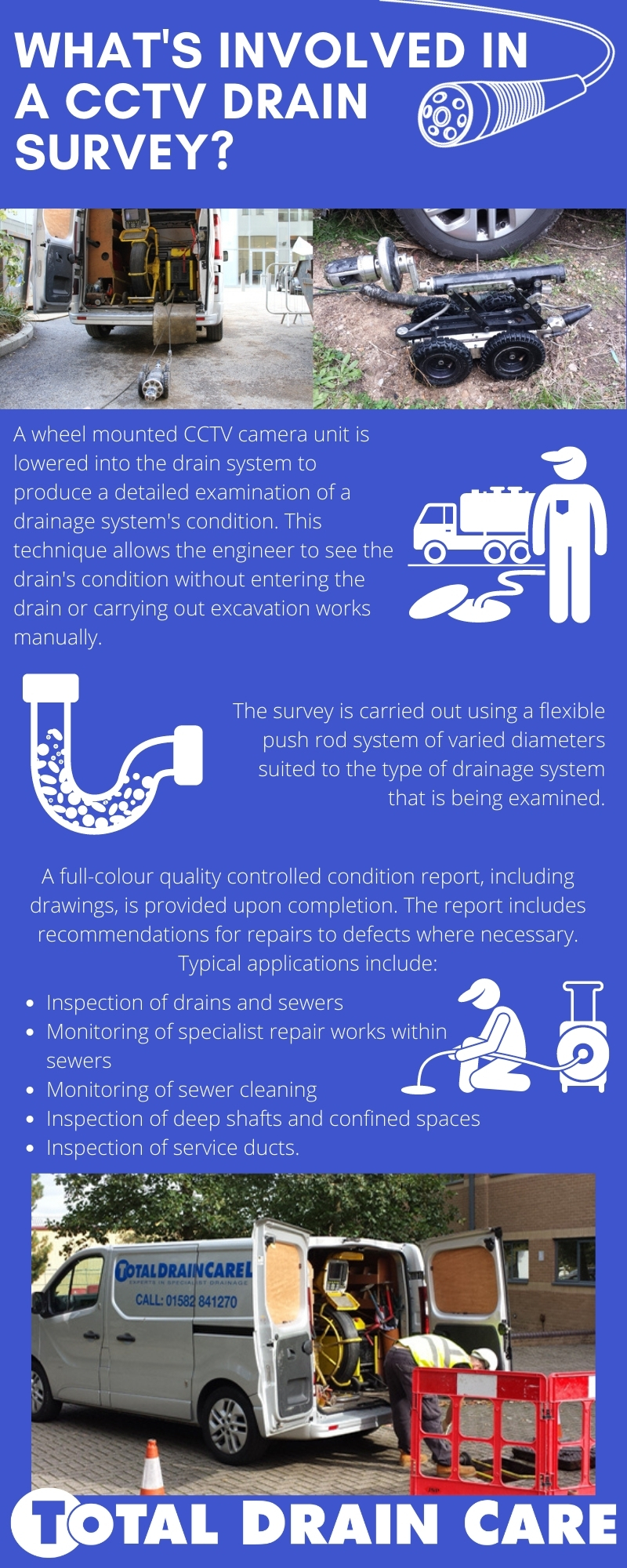 Did You Find us by Searching "Commercial CCTV Drain Survey Near me"?
Did you find us by searching "Commercial CCTV drain survey near me" and are looking for the best CCTV drain survey? CCTV inspections provide Total Drain Care with images of your manhole, sewer systems, drains or septic tank. They show the full drain layout and identify any problems. These pictures make it straightforward to identify the cause of drain blockages and any damage in the quickest way possible.
Can CCTV Drainage Reports be Carried Out Without a Manhole or Inspection Chamber?
Manholes/inspection chambers provide access points to the underground pipework of the sewer system. If you're not sure if you have a manhole, then we can check. If you don't have one, then a CCTV drainage report is possible without a manhole providing that you have an alternative rodding access.
Can CCTV Drain Surveys Find Drain Blockages And Drain Defects?
Yes. With a CCTV drain survey, we're generally looking for drain blockages and drain defects. Any number of different issues can cause these. Works undertaken are for commercial, industrial and trade. You may be looking for pollution investigation or flood investigation. We can help. We've bee providing cost-effective CCTV drain survey report services for years. Our customers find it's the most effective solution for finding drainage issues.
Our drain inspection CCTV cameras give us the capability of providing an expert commercial CCTV drainage survey service. Our professional team will help resolve drainage problems quickly and ensure minimum disruption to your business. Checking your sewer pipes and overall condition of your drain system using our industry-standard equipment allows us to identify drainage issues.
What Types of Problems Can a CCTV Drain Inspection Identify?
Drain problem includes foul smells, water egress, root ingress, fractures, cracks, and displaced joints. Common causes of drain problems include the collapse of drain pipes at certain locations, waste build-up, and cracked or corroded pipes. We also provide high pressure jetting (jet cleaning) and drain unblocking services. Both domestic and commercial customer benefit from our expert CCTV drainage surveys. A full drain survey can help identify the best solution to drain blockages, drain damage, and other issues. A CCTV drainage survey carried out is the only other way of viewing drains' state, besides a drain excavation. Drain excavation involves exposing the drainage system.
If you have a blocked toilet, if manholes are overflowing, sinks failing to drain quickly or properly and foul odours coming from drains, then a commercial CCTV drain survey is an ideal investigative solution. Drainage system inspections are the perfect solution to find out what's causing issues with your drain pipes and sewer systems. Choose a CCTV drain inspection from Total Drain Care, a CCTV camera looking down drains is an ideal way of drain problem identification using CCTV technology. Homebuyers find CCTV surveys useful in the identification of problems when recommended by surveyors. They are also known as pre-purchase drain surveys, or homebuyers drain surveys. If you're looking for commercial CCTV survey costs or home buyers drain survey costs, contact us.
Can CCTV Drain Surveys Help to Identify Rat Infestations?
Yes, they can. Rat infestations of drains are common, and a drain inspection can help with pest control. If you have a rat problem, a drain report will show this. So if you found us by searching "CCTV drain survey near me" and are looking for a CCTV survey for drains – you've found the right company. Our drain technicians can help. If you need a CCTV drain survey cost, UK based Total Drain Care can help.
When Do I Need A CCTV Drain Survey?
You'll know you need a CCTV drain survey if there's a blockage.
If you need to know the length of the pipe.
If you need to know the route of the pipe, if your suspect there's damage, corrosion or wear and need to know the location.
If you're planning to extend your business premises and require a map or the pipe and drain system.
If a drain pipe needs relining.
If your pipes are old and you'd like a preventative inspection.
If you need an emergency inspection for whatever reason.
House builders tend to use drain surveys to progress and handover to the next stages of development.
Emergency And Preventative CCTV Drainage Inspections
CCTV cameras can be used in both reactive (emergency) and proactive (preventative) circumstances. What is a drainage report? It shows the drains' layout, drain pipe diameter and show drainage problems.
Besides financial loss, they can result in issues and discomfort for tenants of rental properties and your clients and customers. So choosing a best-rated CCTV drain survey company is vital to ensure business continuity. A CCTV survey for drains can help to find solutions to drain problems. Commercial drain surveys are essential in discovering issues quickly. CCTV drain inspection cost for businesses and organisations is an investment! A CCTV drain test could be a quick solution to find drain problems. So finding the best CCTV drain survey company is very important.
How Much Does a CCTV Drain Survey Cost?
How much is a CCTV drain survey? Contact us now for a competitive quote. Common drain problems that are found with a CCTV drain survey, rats, blockages, corrosion, signs of wear and tear, burst pipes, causes of leaks, animal intrusions, displaced/open joints/elements, cracks, fractures, root intrusions, collapsed pipes, tree root, etc., can all be found for a reasonable CCTV sewer inspection cost.
CCTV drain survey cost varies depending on location, size of premises, the complexity of the drainage system, the type of CCTV drainage survey.
CCTV inspection companies like us can use a CCTV drain camera to assess the issue quickly. The average cost of CCTV drain surveys varies based on these factors.
Contact Total Drain Care to find out the average cost of CCTV drain survey solutions near you and get a CCTV drain inspection cost. There are different types of drain survey, so if you're looking for the best commercial CCTV drain survey, then it's worth noting that there are a basic CCTV survey and a full CCTV drain survey which includes a report.
So if you're looking for the overall commercial CCTV drain survey cost, UK based Total Drain Care can help. Just contact us for a quote. Drainage investigation has never been more straightforward! How much is a CCTV drain survey? Contact us now to find out a sewer camera price! Drain blockages and damage can result in revenue loss for companies and organisations.
How Can I Book a Commercial CCTV Drain Survey?
Contact us today for a competitive quote for CCTV survey services! Whether you need a commercial CCTV drain survey or looking at companies who can provide domestic drain surveys, we can help.